The re:loom weavehouse is now open to the public on a limited basis.
In our commitment to the health and safety of our staff and visitors, we are still accepting contact-free fabric donations. We accept a wide range of textiles, but we are not able to use upholstery fabric. Please leave items on the covered porch with the rocking chairs. If you would like a written acknowledgment of your donation, please email us at [email protected] with your contact information and the details of your donation.
Group volunteer activities and unscheduled tours are suspended until further notice. To schedule an individual or small group tour, please email [email protected].
Our weavehouse shop is open during regular business hours, (7:30am-5:00pm) Monday-Thursday (closed on Fridays). When you arrive, please call 404-247-4134 to request access to the showroom. The site closes promptly at 5:00pm.
Products remain available in our Online Shop. Thank you as always for your support of re:loom's mission to help homeless and low-income women weave a better life.
re:loom Weavehouse
3032 N. Decatur Rd, Scottdale, Ga. 30079
404-247-4134
re:loom Showroom
3032 N. Decatur Rd, Scottdale, Ga. 30079
404-299-9979
re:loom Weavehouse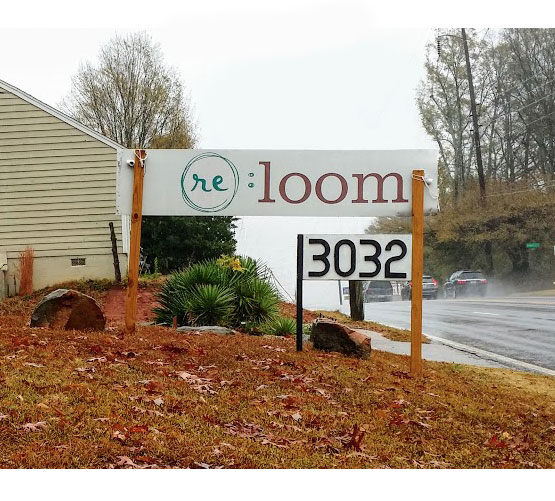 re:loom Showroom